Delivery is via a courier door-to-door service which is quick, hassle free and inexpensive.
The delivery lead time is approximately 3 – 5 days from the time the order is confirmed and paid for.
Courier charge will be calculated according to the weight of the package. This will automatically be worked out when you proceed to check out once order is placed.
Once the package has been despatched we will be in touch via email with a tracking number.
Please make absolutely sure of the size you order.
Our sizes are generous, but we do supply correct centimetre measurements for all items to assist you in selecting the right size.
Use the size guide matrix in the 'sizes & info' tab to assist you.
Our Returns Policy is within 7 days of receipt provided that the item has not been worn. Delivery will, however, be at your expense.
Please follow the steps below for a simple and safe purchase:
Browse the Product site using the shop now button on the top Main Menu.
Be sure to get the size right – be aware they are generous so use the diagram guide matrix in the 'sizes & info' tab to assist you. If you're still not sure, please give us a call and we'll talk you through it.
Click on the item you want and then click on "Add to Cart" to add the item to your shopping cart. You can change the quantity within the shopping cart.
Repeat (3) above to add other items to your cart.
When ready to place the order, go back to the shopping cart by clicking the "Shopping Cart" button in the right hand side header of the page which is visible when you have items in your Shopping Cart. Click the CHECKOUT button on the shopping cart page when you are ready to order.
Fill in your 'NEW USER' details if this is your first time purchasing on this new website or enter your details on the left hand side for 'CURRENT USERS' if you placed orders with the new ePosh website before.
Check your order on the order review page and if you are happy with it, click on "Place Order".
We will email an Invoice to you. If you are satisfied all is correct please make the necessary EFT payment which is our preferred method of payment. Our banking details can be found on the invoice sent to you.
Please email us proof of payment.
We will email confirmation of the dispatch date and the tracking number of your parcel which will be sent to the physical address of your choice.
65% Polyester 35% Cotton
weight of fabric:  120gm2
Wash Care Instructions:
Our garments are machine washable with little to no ironing required. Please refer to the table below for garment care.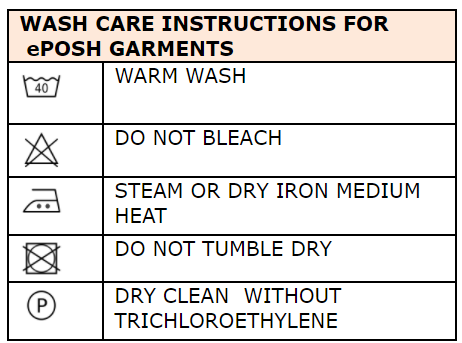 Size Guide Matrix Table
Be sure to check SIZING before placing of order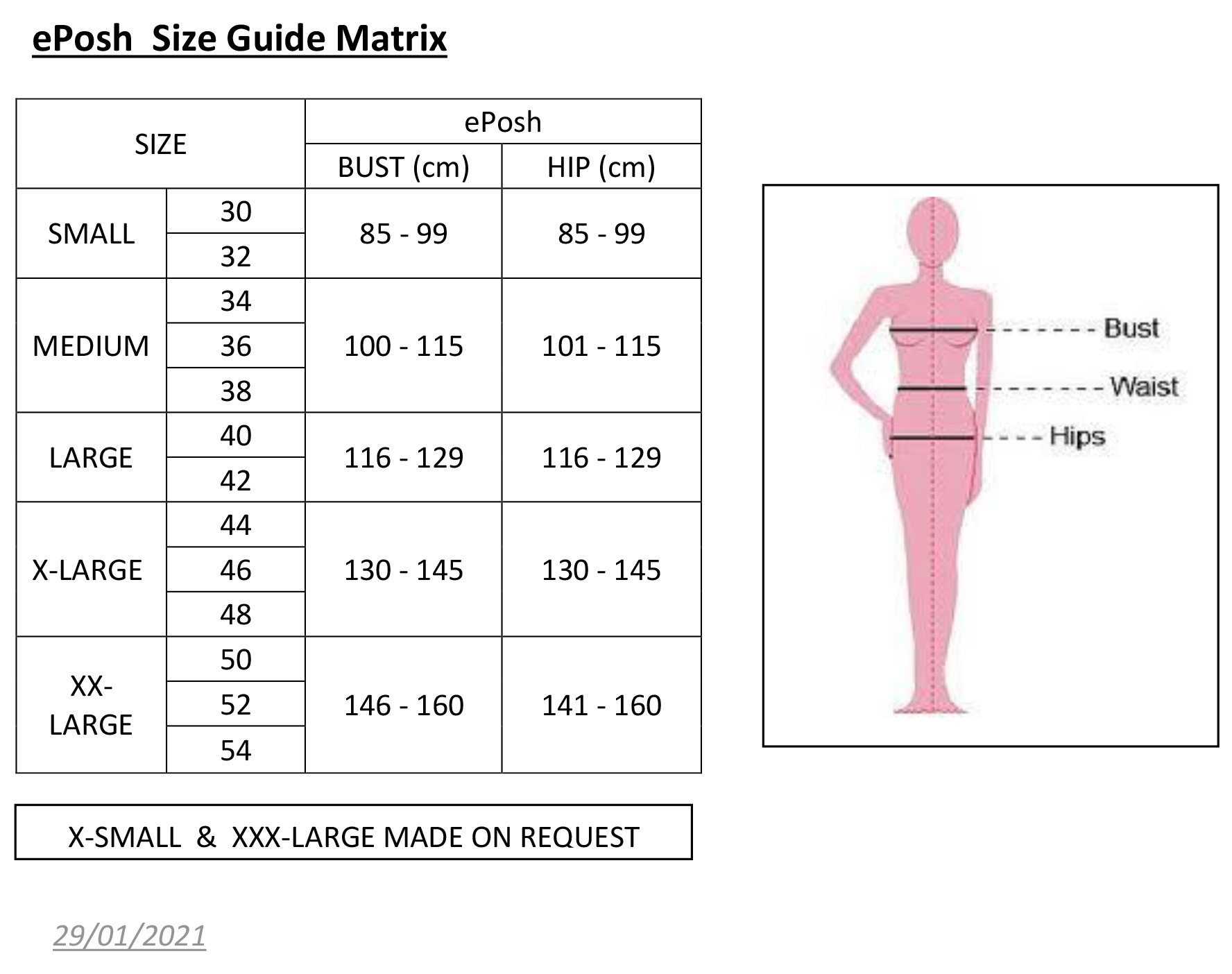 X-SMALL AND XXX – LARGE MADE ON REQUEST
Upgrade your employees with slick, smart and sophisticated workwear/uniforms.
ePosh is a new concept in uniform design that empowers your Nannies, domestic workers, factory cleaners/staff, chars and garden attendants.
Our garments are proudly made in South Africa and are fun, functional and in the spirit of working Africa. We use Premium quality fabric for comfort, style and performance which stands the test of physical work.
Our range of workwear uniforms carries a Shweshwe print that is distinctly ePosh.  It boasts a flexibility to mix and match and creates a look that is quite e-unique.
It's about attitude, pride and respect. Feeling good in what you wear and the way you work.